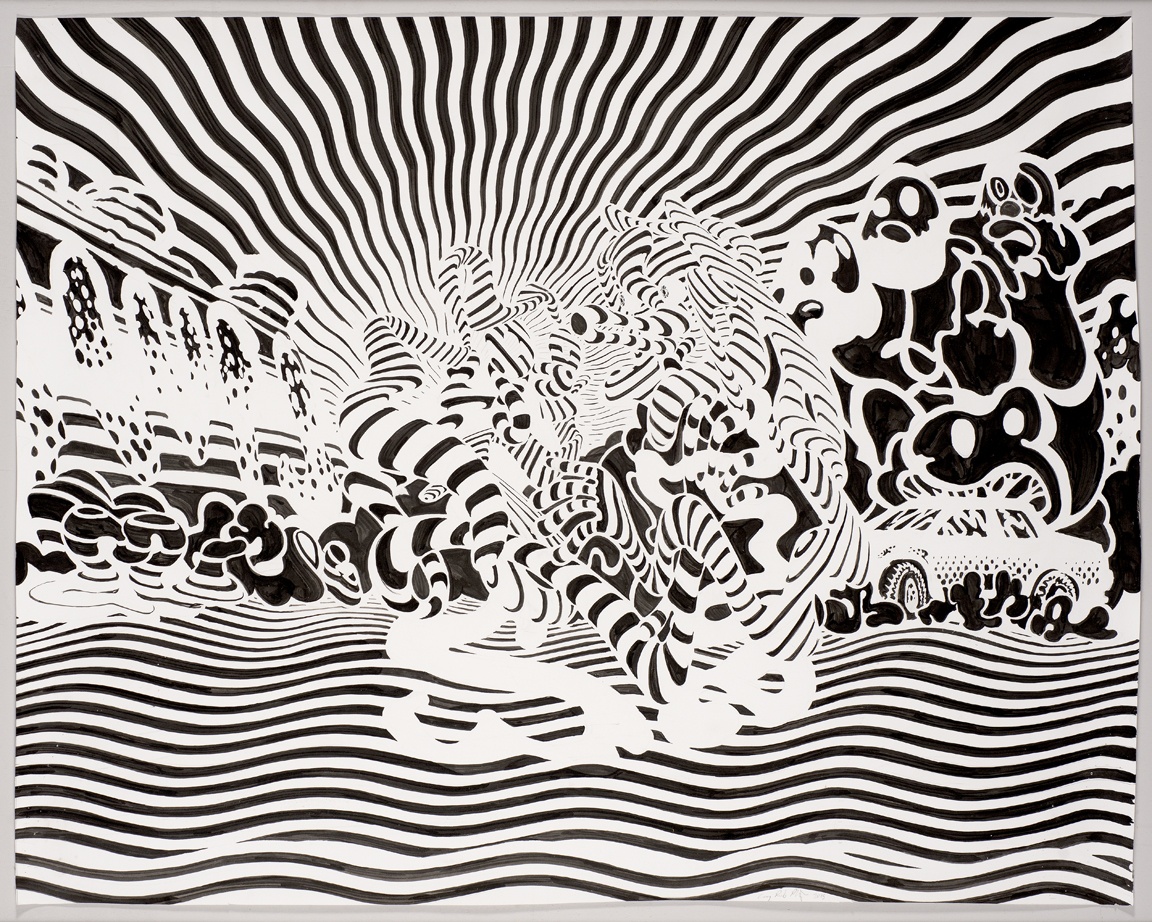 LARRY BOB PHILLIPS
Brainbow, 2015. Ink on paper. 40" x 60"
The goal in my recent work has been to create a form that has plasticity and transformation as its overt focus, allowing the viewer to participate in the conscious construction of the image. Although the graphic strategies vary from one body of work to the next they usually take the form of optically vibrating lines, messy half-tone screensor large color cartoons. They attempt to challenge and poeticize the technical aspects of how we view and represent our world.
I believe that the full history of graphic developments within printmaking's history provide visual artists of all media an open source-book for analogous ways of seeing our world. These veilsof marks and matrices become powerful metaphors for the unseen layers of political force, psychic atmosphere and the withheld promise of other dimensions.
The value of the work is in the smaller moments where strains of the psychedelic meet attentive draftsmanship to weave a picture that has rhythm, phenomenology and inner light. Over time, minute details offer viewers unexpected rewards. These rare culminations when they finally come are the product of long hours drawing and attentive study of nature and the masterworks of art history.
LARRY BOB PHILLIPS | Born in Canyon, Texas, Phillips lives and works in Albuquerque,New Mexico. He received his Bachelor of Fine Arts at the Kansas City Art Institute (1996) and his Master of Fine Arts at theUniversity of New Mexico (2006).Recent select solo exhibitions include Murals at the Albuquerque Museum (2013) Center for Contemporary Art,(collaboration with David Leigh) Santa Fe (2013), Houston Arts League (2012), Recess Projects, NYC (2011), Roswell Museum of Art (2010) Entrance Gallery, Prague (2006).
Recent Select group shows include Albuquerque Now! at the Albuquerque Museum, Albuquerque, NM(2009), Snap, Crackle, Pow! at 516 Arts, Albuquerque, NM (2008), Phillips co-founded the Donkey Gallery inAlbuquerque, NM, (2003) and was awarded the Raymond Jonson Prize in 2007, and the Florence Henriprize in 2006. He has completed residencies at the Djerrasi Residency, Santa Cruz, CA (2008), and theRoswell Artist Residency, Roswell, NM, (2009). He is currently an Adjunct Instructor at the Central NewMexico Community College where he teaches studio classes as well as Art of the Southwest.
http://www.larrybobphillips.com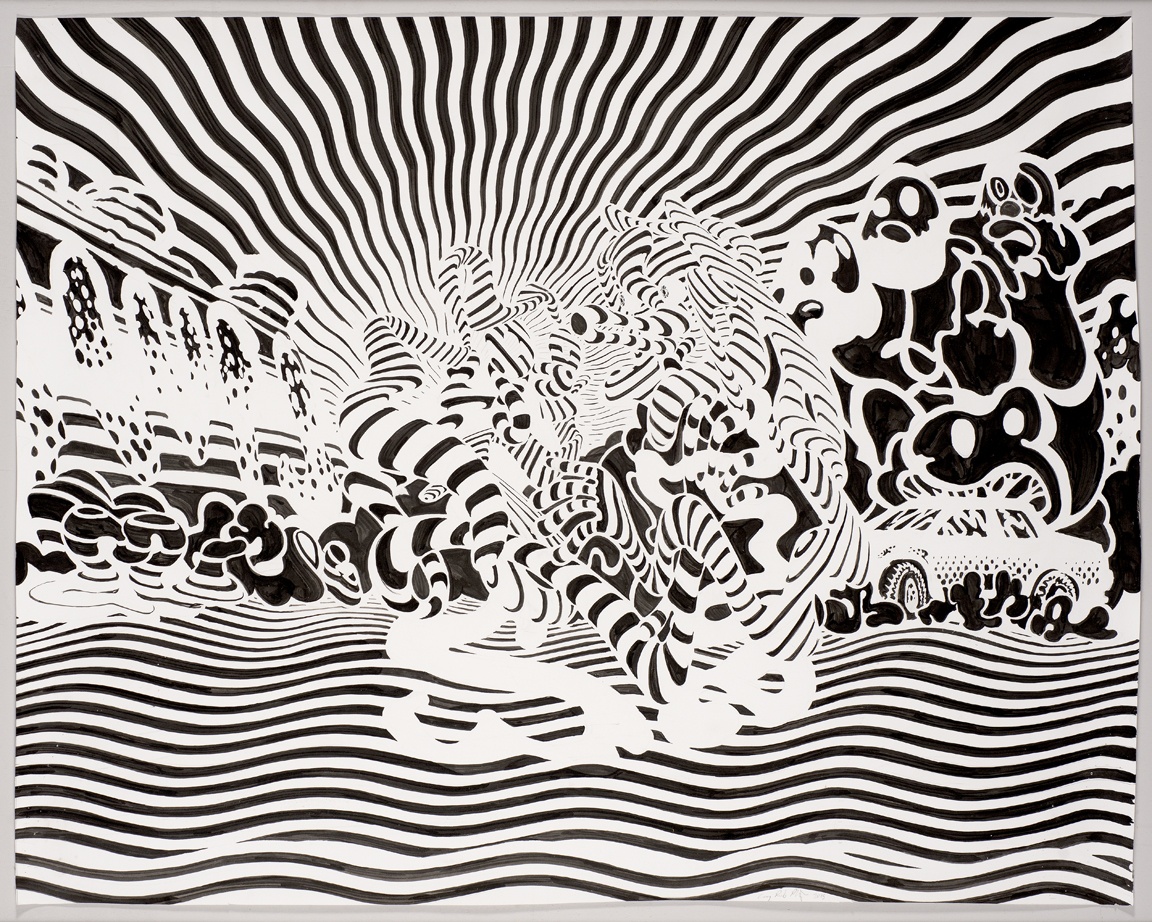 Bathing Couple, 2015. Ink on paper. 43" x 54"
Bathing Bather (small), 2015. Ink on paper. 30" x 22"
Looking Glass, 2015. Ink on paper. 30" x 22"
Caduceus, 2015. Ink on paper. 28" x 20"
Shimmering Bather, 2015. Ink on paper. 15" x 11"
Drinking Bather, 2015. Ink on paper. 68" x 42"
Line Lovers, 2015. Ink on paper. 11" x 12"
Smoking Bather, 2015. Ink on paper. 59" x 42"
Night Tree, 2015. Ink on paper. 43" x 59"
Sunday Drivers, 2015. Ink on paper. 22" x 30"